Clearwater County Democrats: Meeting Updates April 26, 2022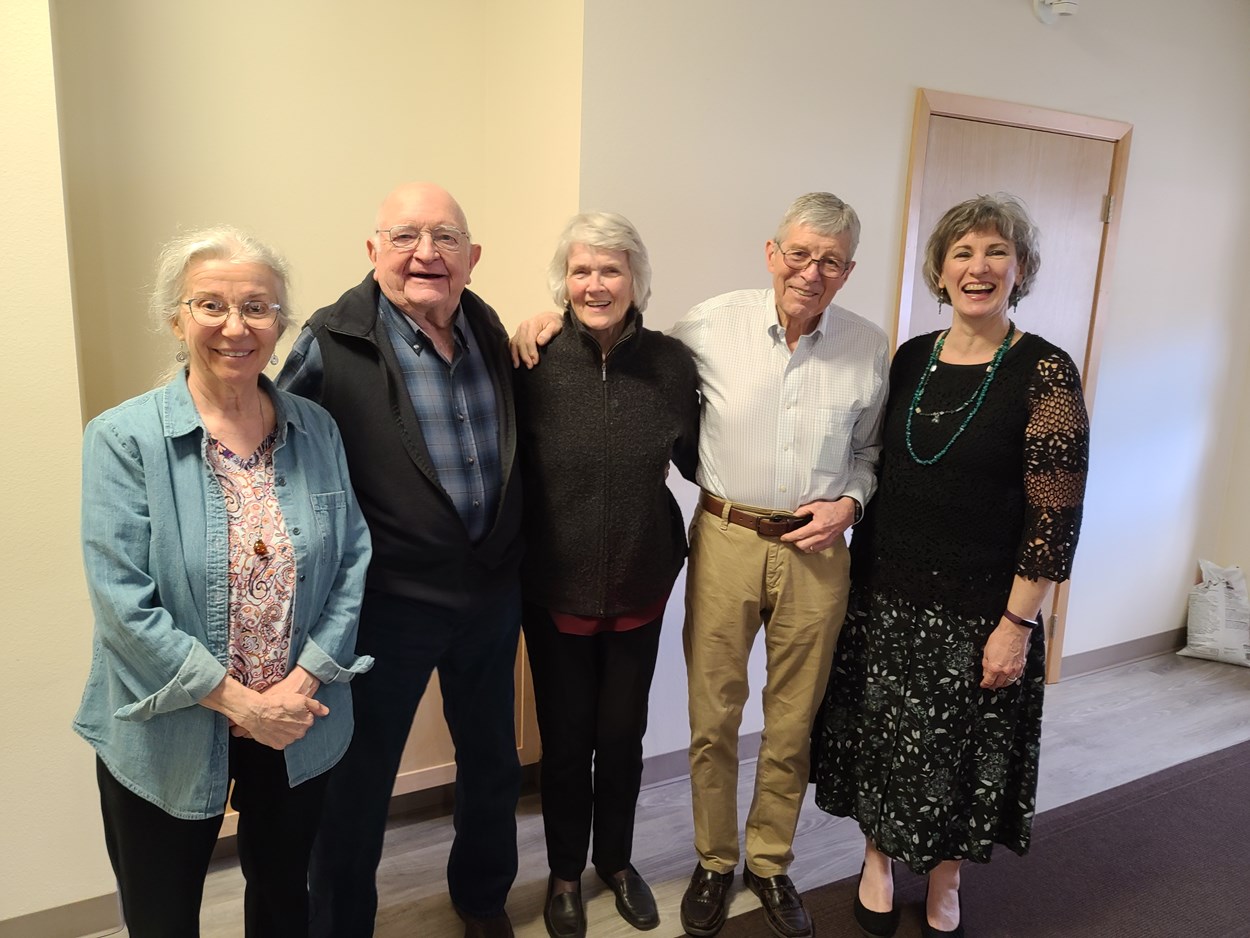 Clearwater County Democrats after the Saturday meeting: Sandy Goffinet, Chair; Tom Stroschein, Candidate for Representative to the State Legislature, Legislative District 2B; Kathryn Allen; John Allen, Precinct Captain 4; and Carrie Bird, Treasurer.
Clearwater County Democrats: Meeting Updates
The Clearwater County Democratic Caucus was held Saturday, April 23rd, to elect a delegate and alternate for the state conference in June. We also met Tom Stroschein, Democratic candidate for Representative to the State Legislature for the state's newly formed Legislative District 2, B position. Afterward, we discussed issues.
At the caucus, we elected Ruby Stroschein from the Elk River Precinct 13 as our conference delegate and Angus Hughes from the Dent/Headquarters Precinct 10 as our alternate delegate. Both delegates will attend the Idaho Democratic Party Conference in June to work on the party platform. This process takes place every two years.
After the caucus, Tom Stroschein introduced himself as a candidate for Representative to the Idaho State Legislature for the newly formed Legislative District 2, B position.
Tom spoke of his early years on the farm near Aberdeen, Idaho, getting a degree in agriculture at the University of Idaho, and returning to the farm to grow a sheep operation in Southeastern Idaho to the scale of 5000 ewes.
During those years, Tom was appointed by the governor to serve as a State Sheep Commissioner and later as a State Wheat Commissioner.
After the bottom dropped out of the lamb market, Tom sold the sheep operation, leased the farm, and he and his wife Ruby moved to Moscow so that Ruby could go to the University of Idaho to earn a bachelor's and a master's degree.
Tom became active with the Latah County Democrats and served four terms as a Latah County Commissioner, for a total of 12 years, working on county concerns and business.
Tom has also served 15 years on the State Board of Health and Welfare, up through the pandemic.
Tom said that his proudest accomplishment while serving on the State Board of Health and Welfare has been the development of centers for those recovering from addiction and behavioral health disorders. The first recovery center was developed in Moscow, then Lewiston, and then Coeur d'Alene. Now there are 9 such recovery centers throughout the state, plus related services.
After Tom Stroschein's presentation, the Clearwater County Democrats discussed political issues of concern for those in attendance. We had in-person participants, as well as online participants from Elk River, Dent, and Orofino.
Thank you to Lane Mayer and John and Kathryn Allen for bringing refreshments.
Our next regular monthly meeting will be Thursday, May 7th, 2022. Call Sandra Goffinet at 208-476-3620 for information.